Spotlight on member's professional development: Becoming a KonMari consultant
In this series of posts on our members' professional development, we are interviewing APDO professional organisers who have undertaken additional qualifications or training, to find out how their clients and businesses have benefitted. In this next post in the series, Moira Stone of Uncluttered Wales talks to Rosie Barron of The Tidy Coo about becoming a KonMari consultant.
What is a KonMari consultant?
Marie Kondo is a Japanese tidying guru who's written a number of books and has a Netflix show. She's a sweet, nice and kind person. Her trademarked method of tidying is called The Marie Kondo Method™ and often referred to as KonMari. KonMari consultants focus on what 'sparks joy'. That means focussing on the positive rather than the negative, focussing on what you want to keep rather than on what to discard. Generally, consultants follow the specific Marie Kondo Method™. First of all, we work with clients on their vision, which is what they want their life to look like. We then use this as a springboard for decluttering and the decluttering process. We use categories of items to prevent looking at the same thing over and over again. We work on categories in a specific order, beginning with clothes, then books, paper and then komono which is everything else (although, obviously, we split this into sub-categories so that it is not too overwhelming). Finally, we work on sentimental items - it's important to leave this to the end so that you are practised at knowing what sparks joy. I haven't found anyone who the Marie Kondo Method™ hasn't suited. People aren't robots, of course, and it can be a very flexible system if that's needed to suit the client.
How did you get interested in the KonMari Method™?
I've been an expat for most of my life, having to move at very short notice. Leading a decluttered and organised life and being ready to move is a way of feeling less pressure in that situation. And focussing positively on what to keep is so much better than thinking about what has to be discarded. We took this approach when my mother moved and it was rather fantastic fun!
What makes a good KonMari consultant?
Kindness and empathy. It's probably the same for all professional organisers. Also not pushing my own agenda. I've done my KonMari decluttering and my life is not the same as yours. If you struggle or find yourself in a muddle, I'm here to listen, show compassion and help.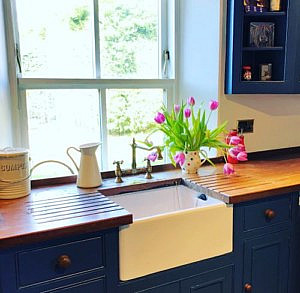 Tell us about the training
The training is a rigorous procedure to ensure that standards are maintained and that clients know what they are getting! First of all, you have to read Marie Kondo's books and apply the method to your own home, taking photographs to document the process. Then you apply to go on a certification course. I attended the first European KonMari seminar in London in April 2018 which was three days long. Now they are mainly being run online, although there are still some in-person courses. You then spend at least 30 hours with a practice client, submitting reports throughout the process. If this is up to standard, you then take an online exam. If you don't pass then you do get a second chance at it. If you fail for a second time you are then mentored by a certified consultant. After this, you have an informal interview, pay the certification fee and are then listed on the KonMari website. There are a number of levels of certification from Green (newly certified) to Master, depending on the number of hours you've spent with clients. I'm currently Gold (600 hours) working towards Platinum level. Of course, you're learning all the time. Each client and situation is different. There is a fantastic supportive community of consultants and you can always access help from KonMari Inc.
How much does the course cost?
Virtual certification courses that last ran in September 2020 cost US$2,000.
How is your business benefitting?
Training in the Marie Kondo Method™ gave me the confidence to start The Tidy Coo (I hadn't heard about APDO training at that point) and it gives me a structure to help other people, whatever the situation. Clients have often read Marie Kondo's books and specifically want to work using the Marie Kondo Method™ and come to me for that reason.
What's your advice to someone thinking about following this training?
Go for it! It's worth knowing that consultants are encouraged to show the Method by example, by living lives that spark joy. We do this by looking for things that we love and focussing on things that spark joy!

Thank you Rosie for telling us about your KonMari journey and how it benefits both your clients and business.

If you would like to find out more about APDO members and their specialisms, take a look at the Find An Organiser directory.