Come and meet us at the Clean and Tidy Home Show
3 minute read
APDO will be a big presence at this year's Clean and Tidy Home Show which takes place on the 14th and 15th October at ExCel London.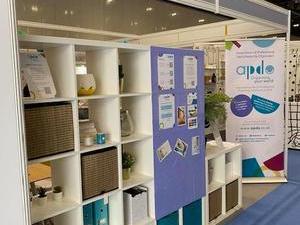 Our members will be speaking on every stage across the 2 days as well as hosting an exhibition stand where we'll be ready to answer your questions. We'll be joining other professionals and influencers to share our love for all things clean and tidy. There's so much to discover at this year's show, we hope you'll come and meet us - you can book your ticket here.
Sue Spencer visited the show last year and shares her thoughts on what to see and why it's a great event to visit.
What is the Clean and Tidy Home Show?
The Clean and Tidy Home Show is billed as a home show for home lovers – it brings together a community of like-minded people to share tips, collaborate and support each other. Just like APDO, the show organisers believe that a home with less clutter and more space is good for your peace of mind and well-being. Throughout the weekend there'll be talks, demonstrations, new products and plenty of opportunities to swap ideas and ask questions about decluttering and organising.
I've been a professional organiser for 5 years and had a fabulous time when I visited the show last year. It was a great opportunity to catch up with friends and learn new skills. There's so much happening in the home organisation industry that it can be hard to keep up so having everything covered in one event was fantastic!
The Clean and Tidy Home Show is such a friendly event, so whether you are visiting on your own or with friends you'll find yourself at home.
My highlights from 2022
picking up some great folding tips from The Folding Lady (Sophie Liard)
a fabulous session by Ingrid and Lesley from The Declutter Hub
the APDO 'blind date' session where the show's host, Georgina Burdett, posed questions to match her up with her ideal professional organiser – it really showed that there's a home organiser for everyone!
all the talks about different aspects of decluttering and organising – from getting started to different decluttering methods and hearing about the impact a clean and tidy home has on your wellbeing.
APDO are official Clean and Tidy show partners and will be speaking and exhibiting. If you've ever thought about either hiring a professional organiser or becoming one, then the APDO team will be on hand to answer all your questions and help you get started. Last year there was a fun competition on our stand so look out for what's in store this year!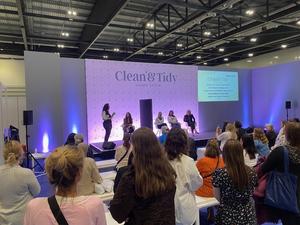 With 5 stages to choose from, there's plenty of variety to cater for everyone's interests. Our members will be sharing their experience and knowledge on a range of topics including procrastination, paperwork, hoarding behaviours, storage, prioritising and neurodiversity.
Plus, there's loads of decluttering and home organisation content throughout the venue. Georgina Burdett (aka The Home Genie) will be hosting conversations with:
The Style Sisters – unlocking an organised and stylish life.
Organised By Lucy - designing spaces to reflect your lifestyle.
At Home with Emily Norris - Organisation hacks and family-friendly ideas for your living space.
Fine Tuned Wardrobe - Making cash from your clutter.
This year's show promises to be full of inspiration and fun and at just £10 for a day ticket it's an absolute bargain! You can get your ticket here and we look forward to meeting you!
Sue Spencer, founder of A Life More Organised, is a Master KonMari Consultant and has been a member of APDO since 2018. Sue lives in Hampshire with her husband, dog, and two lovely grown-up children. You can find out more about Sue by visiting her website, www.alifemoreorganised.co.uk
If you'd like to find a Professional declutterer and organiser in your area, visit our Find an Organiser page.